Thermic Fluid Heater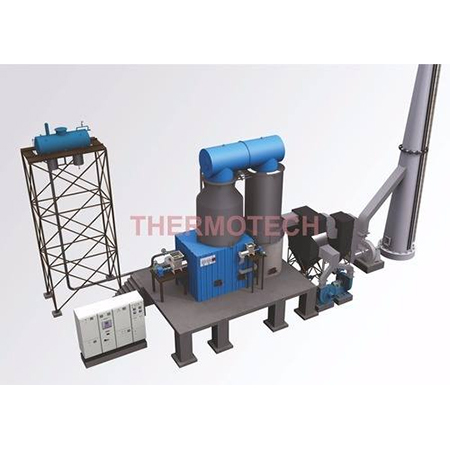 Thermic Fluid Heater
Product Description
We are highly specialized in manufacturing, exporting and supplying a qualitative assortment of Thermic Fluid Heater. It is an operation to transfer heat by the fluids under the well suitable temperature. The provided heater is efficiently manufactured under the stem guidance of our skilled professionals as per the set industry norms for ensuring longer service life as the users end. Moreover, the offered Thermic Fluid Heater is available in numerous specifications as per the application requirements of the clients.
Salient Features of this Model

Furnace is manufactured for multi fuel choices, with main thrust on appropriate choice of furnace height, combustion grate, fuel feeding systems and combustion volume. To safeguard effectual combustion and minor heat loss.
Coils are made with the finest flow deliberation to gain supreme heat from flue gases. Coils are verified at 3 steps prior to final delivery as a part of Thermotech rigorous quality regulation.
FD Fan, ID Fan, & booster fan are designated as per fuel faultless air-fuel ratio prerequisite, that guarantees best air amount for combustion and therefore protects power consumption.
Expansion Tank capacity is explicitly chosen following consulting entire holdup of Thermic Oil. DE aeration Tank is particularly designed seeing flow and temperature obligation.
Thermotech provides comprehensive solution of Thermic Fluid heating system including Pollution control equipment, Pipeline, fuel treatment, etc on Turnkey basis.

Auto Controls & Safety

Thermic Fluid Temperature control

Cut-off of ID/FD fan of predetermined temperature and resume of predetermined temperature and resume of preset difference temperature to uphold system temperature is done via Digital temperature indicator-cum-controller.

Stack Temperature Control

Cut off of ID/FD fan and alarm is sounded by a blind temperature controller in case stack temperature surpasses to predetermined temperature.

Low/NO Flow of Thermic Fluid

Difference pressure switch associated crosswise intel and exit headers signs low flow alarm when low fluid pressure occurs of Thermic fluid in coils.

Low Level of Thermic Fluid

The visual level pointer and float activated lever switch installed in expansion tank signs alarm when low level thermic fluid occurs in the system.

Thermic Fluid Pump Motor Trip

In case of electrical interlocks, thermic fluid pump motor trip, cut off ID/FD fan.

Power Failure

Diesel engine drive saves thermic fluid affecting the system to stop its dilapidation and overflow.

Excess Furnace Bed Temperature

Digital temperature indicator-cum-controller wits furnace bed temperature and immediately cut off ID/FD fan overhead set value(for FBC unit).
Benefits :

Multi-Fuel Option
Energy Optimization
Less Power Consumption
Low Maintenance
Features :

Effortless operation
Lengthier functional life
Rough design
Completely automatic
Trade Information
, All India, South India, Central India, North India, East India, West India, Andaman and Nicobar Islands, Andhra Pradesh, Assam, Arunachal Pradesh, Bihar, Chhattisgarh, Chandigarh, Delhi, Dadra and Nagar Haveli, Daman and Diu, Gujarat, Goa, Haryana, Himachal Pradesh, Jammu and Kashmir, Jharkhand, Karnataka, Kerala, Lakshadweep, Madhya Pradesh, Maharashtra, Mizoram, Meghalaya, Manipur, Nagaland, Odisha, Punjab, Pondicherry, Rajasthan, Sikkim, Tamil Nadu, Telangana, Tripura, Uttar Pradesh, Uttarakhand, West Bengal

ISO 9001:2008