Liquid Fuel Fired Thermic Fluid Heaters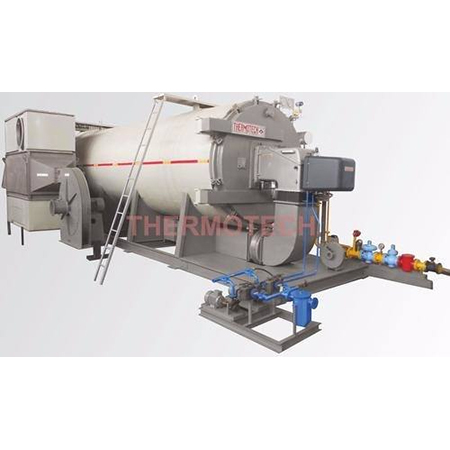 Liquid Fuel Fired Thermic Fluid Heaters
Product Description
Thermic Fluid Heater Liquid and Gas Fuel Fired
Thermic Fluid Heater's are obtainable in Vertical and Horizontal Models where in thermic liquid can be heated about normal 340 degree Celcius at near environmental pressure with competence as greater as 92% on GCV of Gas and Oil fuel.

Thermic Fluid Heater Volume = 0.1 MKcal/hr -15 MKcal/hr
Supreme Temperature = 370 Deg. C

Application:

Textile, Chemical, MDF and Particle Board, Technical Textile, Oil & Gas, Plywood and Laminates, Packaging, Pharmaceuticals, Rubber, Food Processing, Metal, etc...
Fuel to Handle : LDO, Diesel, Furnace Oil, LPG, Hydrogen, N. Gas, etc..
Quality Assurance: ISO 9001 : 2008 for more than 7 years.
Thermic Heater - Gas Oil / Fired Burner
THERMIC FLUID HEATERS are obtainable in VERTICAL and HORIZONTAL MODELS where thermic fluids can be heated to about normal 340 degree Celcius at near environmental pressure with competence as huge as 92% on GCV of Gas and Oil fuel.
The Main Heat Exchanger is integrated with a combined combustion chamber formed using High Heat Resilient Steel Tubes : BS 3059 P-1 and Seamless Pipes : SA106 GrB S40 of passable size, clearly designed with identical concentric multi twitch helical coil. This Coil is introduced into M.S. Shell with constructions provisions to place whole assembly leveled.
The system has 3 passes on flue gas side that safeguards optimal heat transfer with security current flow code. The combustion chamber is made to uphold safe distance amid coil tube surface and burner flame, that safeguards long thermic fluid life, optimum heat transfer because of lesser film temperature and security of helical coil tube that eventually defenses the complete heat exchanger.
HORIZONTAL UNIT WITH EXTERNAL AIR PRE HEATER
This innovative "HT" sequence of Thermic Fluid Heater : Thermic Fluid Heater Coal Wood Fired
"THERMOTECH" presents a novel vertical four passes THERMIC FLUID HEATER is suitable for Indian industries in fast changing and unreliable energy circumstances. The vertical design joined with integral furnace offers you an oath of a valued production on any solid fuel like wood, husk, coal, bagasse, etc. Our generous design assistances in exchange from one fuel to another deprived of negotiating on performance. Its quality promise product comes from THERMOTECH, the corporation recognized for its know-how of heaters and boilers all over India. Nowadays there are more than 1000 THERMOTECH fittings in the country almost in all kinds of industry dipping time and cost.

EFFICIENCY AT ITS PEAK
Reduced Excess Air
Radiant heat exchanger overhead furnace, cools henceforth, less extra air is required. This gives growth to efficiency.
Air Preheating
Combustion air from FD fan permits using air preheater to engage the left-over heat from the fuel gases. This outcomes in additional increase in efficacy.
Balanced Draught System
This system safeguards least infiltration of undesirable air via fire doors. Henceforth, all the combustion air permits via the APH. Therefore, the supreme heat retrieval from APH takes place, that safeguards rated efficiency.
Rated Output
Thermotech's vertical heater model provides you valued efficiency and its considered output.
Multifuel Option
The system is appropriate for wood, coal, bagasse etc. for complete production with minor alterations in combustion chamber.

Fuel Consumption control founded on gross calorific value:
Lignite Coal: 3500 kcal / kg.
Steam Coal: 4500 kcal / kg.
Agro - Waste: 3300 kcal / kg.
Trade Information
All India, South India, Central India, North India, East India, West India, Andaman and Nicobar Islands, Andhra Pradesh, Assam, Arunachal Pradesh, Bihar, Chhattisgarh, Chandigarh, Delhi, Dadra and Nagar Haveli, Daman and Diu, Gujarat, Goa, Haryana, Himachal Pradesh, Jammu and Kashmir, Jharkhand, Karnataka, Kerala, Lakshadweep, Madhya Pradesh, Maharashtra, Mizoram, Meghalaya, Manipur, Nagaland, Odisha, Punjab, Pondicherry, Rajasthan, Sikkim, Tamil Nadu, Telangana, Tripura, Uttar Pradesh, Uttarakhand, West Bengal

ISO 9001:2008