Husk Fired Thermal Fluid Heater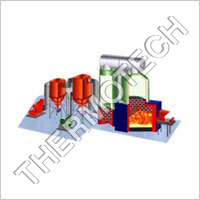 Husk Fired Thermal Fluid Heater
Product Description
Thermic Fluid Heater Husk Fired
"THERMOTECH" presents innovative vertical four passes THERMOPAC which has Fluidised Bed Combustion (FBC) technology safeguarding comprehensive combustion of even husk fuel and low-grade coal with almost nil wastage and attaining high heat functioning efficiency.
In addition to the prior model TSCV the system is integrated with FBC Technology to safeguard complete combustion,
Help standardized mixing of fuel, uphold unchanging bed temperature, leaves less unburnt fuel with I.D., the dust collector, and F.D. fan for equilibrium draft to safeguard least infiltration of undesirable air through doors and fresh air passes via air pre-heater safeguard all-out fuel to heat operating competence for any profitable grade of solid fuel.
The volume varieties from 2 Lacs to 30 Lacs kcal/hr.
The vertical four pass thermic fluid heater is suitable for Indian industries in quickly changing and unreliable energy condition. The vertical design joined with essential furance offers you a guarantee of valued production on any solid fuel like Wood, Husk, Coal, Bagasee etc.
EFFICIENCY AT ITS PEAK :

Reduced Excess Air

Radiant heat exchanger overhead furnace, cools henceforth, less extra air is required. This gives growth to efficiency.

Air Preheating

Combustion air from FD fan permits using air preheater to engage the left-over heat from the fuel gases. This outcomes in additional increase in efficacy.

Balanced Draught System

This system safeguards least infiltration of undesirable air via fire doors. Henceforth, all the combustion air permits via the APH. Therefore, the supreme heat retrieval from APH takes place, that safeguards rated efficiency.

Rated Output

Thermotech's vertical heater model provides you valued efficiency and its considered output.

Multifuel Option

The system is appropriate for wood, coal, bagasse etc. for complete production with minor alterations in combustion chamber.
Fuel Consumption calculation grounded on gross calorific value
Husk: 3100 kcal / kg.
Steam Coal: 3500 kcal / kg.
Trade Information
Himachal Pradesh Manipur Central India North India East India West India Andhra Pradesh Assam Arunachal Pradesh Bihar Chandigarh Delhi Gujarat Goa Haryana Jammu and Kashmir Jharkhand Karnataka Kerala Madhya Pradesh Maharashtra Mizoram Meghalaya Odisha Punjab Rajasthan Sikkim Tamil Nadu Telangana Tripura Uttar Pradesh West Bengal Andaman and Nicobar Islands Pondicherry Nagaland Uttarakhand Daman and Diu Dadra and Nagar Haveli Lakshadweep South India Chhattisgarh All India

ISO 9001:2008