Gas Fired Vertical Thermal Fluid Heater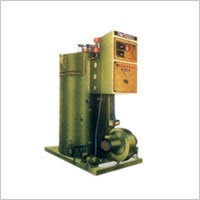 Gas Fired Vertical Thermal Fluid Heater
Price And Quantity
Piece/Pieces

100000 USD ($)
Product Description
With over years of experience in the manufacturing of liquid phase complete automatic heating systems, the "Thermotech" is offering Thermic Fluid Heater Oil or Gas Fired Vertical, which are integrated with a complete automatic packaged Gas/Oil fired heater. Because of this, the thermic fluid is heated to approximately 300C at the nearest atmospheric pressure keeping the effectiveness as huge as 87% on NCV of Gas/Oil fuel.
The capacity varies between 1 lac kcal/hr -25 lacs kcal/hr in Gas/ Oil firing.
Feature of Thermic Fluid Heater Oil or Gas Fired Vertical
THE HEAT EXCHANGER
The Heat Exchangers manufactured by us are integrated with a M.S Seamless/ERW boiler tube of suitable size combustion chamber, precisely made concentric two start helical coil positioned between mild and insulated steel shell safeguarding maximum heat transfer. For maintaining secure distance between the coil surface and the flame of the burner and for ensuring extended thermic fluid life, the combustion chambers are designed in conformance with DIN 4754. The system offers 87% constant on NCV.

THE BURNER
All our offered Vertical Sort Thermic Fluid Heater are integrated with standard adaptable pressure jet-atomizing burner.
THE FUEL SYSTEMS
For heating the oil at approximately 120oC, this system is integrated with an electrical pre-heater. Complete combustion under changing load circumstances is ensured by the fuel oil temperature and pressure.
THERMIC FLUID PUMP
An elevated temperature duty C.S. body centrifugal pump set of the essential capacity head and flow rate ensures the circulation of hot thermic fluid oil within the system. Offered pump with bearing cooling arrangement and gland together with appropriate electric motor through a pull-out sort coupling.
AUTO CONTROLS AND SAFETIES

High Fluid Temperature Switch (Return)

For maintaining temperature of the system, digital temperature pointer cum controller cut off at the predetermined temperature and display the temperature of return oil and also restart the burner at the stipulated temperature.

High Fluid Temperature Switch (Outlet)

If the temperature surpasses the preset temperature, burner is cut off, an alarm is sound, and burner is put in electrical lock out by the digital temperature indicator and controller installed on the outlet of the thermic fluid.

Stack Temperature Switch

In the condition when the stack temperature exceeds the preset temperature, burner is cut-off, electrical lock is put in and alarm is sound by a blind temperature controller.

Liquid Level Switch

In circumstance of low level of Thermic liquid in the expansion tank, burner activated indicator is cut-off and an alarm is sounded by a magnetic float level switch.

Flame Sensor

Photocell resistor activated pointer lamp audio-visual alarm and burner cut off in the circumstance of flame failure.

Low Fluid Pressure Switch

Differential pressure switches activated pointer lamp, keep the burner in electrical lock out and sound alarm while no-flow or low fluid force of Thermic Fluid Oil is observed.

Fuel Oil Temperature Switch

Thermostat mechanically cut off electric heater at predetermined temperature for keeping furnace oil fuel temperature and intertwining with burner permits burner to begin only at fixed temperature of fuel.

Spring Loaded Relief Valve

In the condition of back firing for preventing harm to coil, at second third pass of vent gas automatically lift-up and form passage for escaping the vent gas by Spring loaded Relief Valve.

Bottom Drain

For avoiding back firing in the condition of vertical models, unburnt fuel is drained out by the drain points given at the bottom of the combustion chamber.

Circulating Pump Motor Interlock

Burner is restricted to start till the full circulation takes place within the system by Thermic Fluid Oil circulating pump motor, which is electrically interlocked.

AUTO-MANUAL CONTROLS :
The THERMOTECH Thermic fluid heating systems are completely automatic for unattended functions. The normal process of the system is administered by Master Electronic system regulators and security controls but in the circumstance of failure of auto controls the system can be functioned physically in the time of emergency, maintaining continuous watch on system at the time of manual operation.
OPTIONAL AT EXTRA COST :
Thermic fluid pump set is kept on standby.
Thermic fluid pump is offered with mechanical seal.
Top up pump and Drain tank.
Fuel oil pre- heater.
Temperature regulating device for user apparatus.
Chimney.
Trade Information
Dadra and Nagar Haveli Himachal Pradesh South India Nagaland East India Assam Arunachal Pradesh Bihar Chandigarh Delhi Gujarat Goa Jammu and Kashmir Karnataka Madhya Pradesh Maharashtra Mizoram Meghalaya Manipur Punjab Rajasthan Sikkim Tamil Nadu Telangana Tripura West Bengal Kerala Andaman and Nicobar Islands Pondicherry Uttarakhand Daman and Diu Lakshadweep Uttar Pradesh Haryana North India Andhra Pradesh Central India Odisha Jharkhand West India Chhattisgarh All India

ISO 9001:2008