Gas Fired Hot Water Generator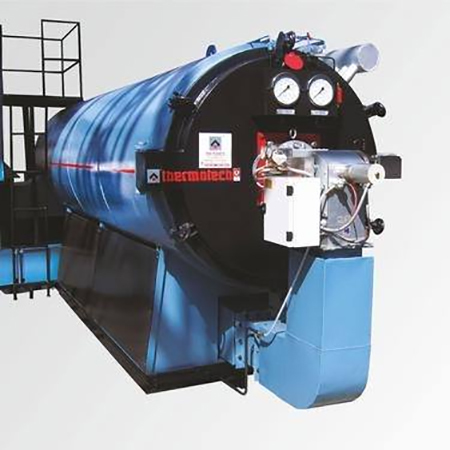 Gas Fired Hot Water Generator
Product Description
The
Gas Fired Hot Water Generator
is a very compressed completely programmed packaged hot water generator in arranged to install state and can be fitted where ever space is obtainable. It does not need any special room such as boiler house. It falls outdoor the domain of Indian Boiler Regulations. It is a secure and economical system that offers hot water quicker than any other conservative system. It's most perfect usage comprises HOSPITALS, HOTELS, LAUNDRY, RESIDENTIAL COMPLEX, DAIRY INDUSTRIES, etc. where constant hot water supply is fundamentally obligatory. The system is obtainable in extensive variety of heat production from 70,000 kcals/hr. to 10,00,000 kcal/hr., to offer production of 1250 ltrs/hr. to 18,200 ltrs/hr. of hot water at approximately 65c temperature.
Features:

Energy efficient
Trouble free functioning
Easy to operate
Longer service life
A New Awareness in Quality

Thermotech set-up back in the year 1988, is today a well-known name in process Heating Systems.
Our motivation lies in no compromise in quality, hard work, implementation of innovative technologies and environment safety.
Our large network across India offers quick delivery and quality assurance to our reckoned clients.
Watertherm - A New Notion In Hot Water Boilers
Heat exchanger of hot water generator made-up out of boiler tube BS 3059 of passable size, precisely made with concentric multi start and three flue gas passes to safeguard best heat transfer with low flue gas withdrawal temperature functions watertherm at a continuous competence of 88 % (on ncv @ mrc).
Small volume models wt-30 & wt-50 are sleek, instant and compact hot water generator entirely designed for resorts, hotels, dairies & hospitals.

Benefits
Completely automatic
No need of extra man power
Stop with automatic controls/ single button start
Effortless operation.
Inexpensive
Low fitting cost.
Minimum space needed.
No water treatment needed with calorifier.
High functioning savings of about 50 % against electrical heating.
Minimal maintenance cost
Front door access for scrubbing and examining flue gas port without eliminating the burner.
Discharged from indian boiler regulation act.
Environmentally-friendly a space saver
Less floor space required
Smokeless emission
Highly compacted
Noise free operation
Can be fitted on basement, terrace, or anywhere

Technical Features :

Improved engineering design with finest technology.
Optimal heat transfer henceforth high efficiency of 90 %.
Quality assured engineering.
Anti-drip imported burner therefore high combustion rate.
Accuracy wound coil.
Incessant supply of hot water to about 90c, round the clock.
Improved security with burner cut-off in case of flame failure, high stack temperature, high water temperature, and no water circumstances.
Technical Specification :
Parameters

Unit

Models




WT 30

WT 50

WT 100

WT 200

WT 400

WT 600

WT 1000

Operating Data

























Heat Output

Kcal/hr

30000

50000

100000

200000

400000

600000

1000000

Max hot water Temperature

C

90

Water Output at 65C

Ltr/hr

550

910

1825

3650

7275

10950

18250

Burner Modulation




Auto On-Off

Two Stage

Thermal Data




Efficiency ON NCV

HSD

%

88+-2

N.GAS/LPG

%

88+-2

Rated Fuel

Consumption

HSD

Kg/hr

3.10

5.2

10.4

20.7

41.4

62.1

103.5

N.GAS

Nm3/hr

4

6.5

13.1

26.1

52.3

78.4

130.7

LPG

Nm3/hr

3.09

5.1

10.3

20.6

41.2

62.1

102.9

Electrical Data




415 Volts AC, 50 HZ, 3 Phase, 4 Wire

Pump Motor

HP

0.5

0.5

3

7.5

10

15

20

Burner / Blower Motor

HP

0.5

0.5

1

1

2

3

5

Fuel Pump

HP

-

-

-

0.5

0.5

0.5

1

Fuel Preheater (F.O)

HP

-

-

-

-

4

4

8

Total Connected

Load

HSD

HP

1

1

4

9

12.5

18.5

26

FO

HP

-

-

-

-

16.5

22.5

34

N.GAS

HP

1

1

4

8.5

12

18

25
Application :
Hotels / Resorts
Ashram / Dharmshala
Dairy
Garments / Laundry
Swimming Pools
Guar Gum Industry
Electroplating
Steel Plants
Trade Information
All India, South India, Central India, North India, East India, West India, Andaman and Nicobar Islands, Andhra Pradesh, Assam, Arunachal Pradesh, Bihar, Chhattisgarh, Chandigarh, Delhi, Dadra and Nagar Haveli, Daman and Diu, Gujarat, Goa, Haryana, Himachal Pradesh, Jammu and Kashmir, Jharkhand, Karnataka, Kerala, Lakshadweep, Madhya Pradesh, Maharashtra, Mizoram, Meghalaya, Manipur, Nagaland, Odisha, Punjab, Pondicherry, Rajasthan, Sikkim, Tamil Nadu, Telangana, Tripura, Uttar Pradesh, Uttarakhand, West Bengal

ISO 9001:2008