Direct Hot Air Generator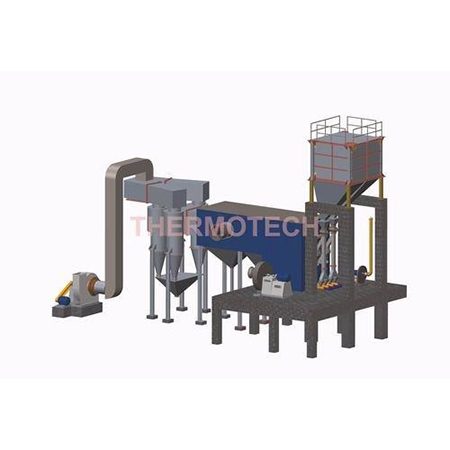 Direct Hot Air Generator
Product Description
The horizontal Direct Hot Air Generator is integrated with fuel elasticity in mind and can fire a variety of usage rice husk, saw dust, pulverizes coal, and any kind of free flow fuel. It lets high and medium procedure temperatures deprived of operating pressures.
Direct Hot Air Generator is like a gas grill flame broil. With petroleum or propane gas heating, units constrain air straightforwardly through the fire to heat the air. The ignition gases from a burning chamber are blended with an appropriate measure of surrounding air and direct to the shower dryer. This Direct Hot Air Generator gives the most astounding conceivable heating effectiveness. Our system incorporates standard and customized, furnaces, heat treatment. Essential and optional Fuel Electric and fire resistance kind Heaters for re-heating and heating that incorporates rotary kiln, dryer, ovens and more.
PRODUCTS FEATURES :

- High volume heating system
- Multi-fuel choice
- Rugged -very little maintenance is required
- Accessible systems.

OPERATING RANGE :

Capacities ranging between 0.4 million kcal/hr- 15.0 million kcal/hr
Temperature: approximately 400 oC
Firing fuels: rice husk, saw dust, pulverizes coal, and any kind of free flow fuel
Efficiency: Inclusive competence of 90% (+/-2%) on NCV
Trade Information
, All India, South India, Central India, North India, East India, West India, Andaman and Nicobar Islands, Andhra Pradesh, Assam, Arunachal Pradesh, Bihar, Chhattisgarh, Chandigarh, Delhi, Dadra and Nagar Haveli, Daman and Diu, Gujarat, Goa, Haryana, Himachal Pradesh, Jammu and Kashmir, Jharkhand, Karnataka, Kerala, Lakshadweep, Madhya Pradesh, Maharashtra, Mizoram, Meghalaya, Manipur, Nagaland, Odisha, Punjab, Pondicherry, Rajasthan, Sikkim, Tamil Nadu, Telangana, Tripura, Uttar Pradesh, Uttarakhand, West Bengal

ISO 9001:2008