Coal Fired Thermal Fluid Heater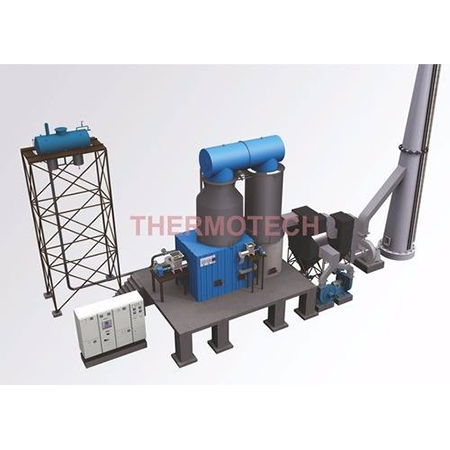 Coal Fired Thermal Fluid Heater
Product Description
Leveraging on our broad industry experience and in-depth market knowledge, we are offering a broad spectrum of Coal Fired Thermal Fluid Heater. The offered heater is best suitable at the situation of rapidly changing and undependable energy situations. Under the proper supervision of our adept professionals, the provided heater is manufactured with high precision by making use of quality approved components with the help of pioneering machinery. Available in various specifications, the offered Coal Fired Thermic Fluid Heater is provided to the clients at affordable prices.
The Coal Fired Thermal Fluid Heater is controlled by the normal coal squares. This heater utilizes a circuitous strategy for heat exchange, by using an oil based liquid as the exchange medium. The provided heater keeps up a steady temperature for the uniform heating. Our offered Coal Fired Thermal Fluid Heater is acclaimed for negligible heat failure to the environment. De-aerator and extension is intended for assurance from thermic liquid oxidation and arrangement of nonstop de-air-circulation of thermic liquid, hence, preventing pump cavitation. In addition the solid and vigorous parts with least handling fans, controls, pump and more are provided in our range.
Features :

Optimum functionality
Heat resistance
Longer service life
Low maintenance
Thermic Fluid Heater Coal Wood Fired

Horizontal model is better version, which have confirmed their virtuous design and to which new Skills and Substances are added to recover competence to about 93%, simplify the maintenance, energy saving, low smoke release and is able to assimilate with PLC and SCADA system with convenience.

The Stack Heat from
Drain flue gases of Main Heat Exchanger are recovered by means of Combustion Air Pre Heater (CAPH) and fresh combustion air is heated prior to going to burner, which advances combustion competence, reduce fuel consumption, reduces stack temperature, and save environment.

THE COMBUSTION FUELS :

"THERMOTECH" : Our Thermic Fluid Heaters are combined for all vendible and special fuels obtainable in industry for combustion.
Fuels like : Diesel / Kerosene / Furnace Oil (HFO) / Light Diesel Oil (LDO-LFO) / Natural Gas / Pipeline N. Gas, LPG / etc. are flammable with same competence, that is thankful to our combustion authorities who designs combustion constraints and Air to fuel proportion for the best production.

Thermic Fluid Heater Coal Wood Fired
"THERMOTECH" presents a novel vertical four passes THERMIC FLUID HEATER is suitable for Indian industries in fast changing and unreliable energy circumstances. The vertical design joined with integral furnace offers you an oath of a valued production on any solid fuel like wood, husk, coal, bagasse, etc. Our generous design assistances in exchange from one fuel to another deprived of negotiating on performance. Its quality promise product comes from THERMOTECH, the corporation recognized for its know-how of heaters and boilers all over India. Nowadays there are more than 1000 THERMOTECH fittings in the country almost in all kinds of industry dipping time and cost.
EFFICIENCY AT ITS PEAK

Reduced Excess Air

Radiant heat exchanger above furnace, cools hence, less excess air is needed. This gives rise to efficiency.

Air Preheating

Combustion air from FD fan passes through air preheater to absorb the waste heat from the fuel gases. This result in further increase in efficiency.

Balanced Draught System

This system ensures minimum infiltration of unwanted air through fire doors. Hence, all the combustion air passes through the APH. Thus the maximum heat recovery from APH takes place, which ensures rated efficiency.

Rated Output

Thermotech's vertical heater model gives you rated efficiency & its catagoriesed output.

Multifuel Option

The system is suitable for coal, wood, bagasse etc. for full output with minor modifications in combustion chamber.
Fuel Consumption calculation based on gross calorific value
Steam Coal: 4500 kcal / kg.
Lignite Coal: 3500 kcal / kg.
Agro - Waste: 3300 kcal / kg.
Trade Information
All India, South India, Central India, North India, East India, West India, Andaman and Nicobar Islands, Andhra Pradesh, Assam, Arunachal Pradesh, Bihar, Chhattisgarh, Chandigarh, Delhi, Dadra and Nagar Haveli, Daman and Diu, Gujarat, Goa, Haryana, Himachal Pradesh, Jammu and Kashmir, Jharkhand, Karnataka, Kerala, Lakshadweep, Madhya Pradesh, Maharashtra, Mizoram, Meghalaya, Manipur, Nagaland, Odisha, Punjab, Pondicherry, Rajasthan, Sikkim, Tamil Nadu, Telangana, Tripura, Uttar Pradesh, Uttarakhand, West Bengal

ISO 9001:2008