Wood Fired Thermic Fluid Heater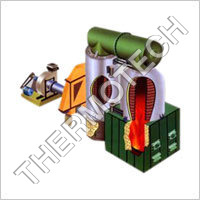 Wood Fired Thermic Fluid Heater
Product Description
Owing to the competency and valuable knowledge of our highly experienced professionals, we are affianced in offering a quality approved array of Wood Fired Thermic Fluid Heater. Our adept professionals make use of the excellent quality components and latest technology to manufacture the offered heater in accordance with set industry norms. The provided heater is a most affordable solution for heat because it requires coal, wood, husks and other solid fuel. The provided heater is also strictly checked on various quality parameters to ensure its flawlessness. Highly valuable for undependable and rapidly changing energy situations, the offered Wood Fired Thermal Fluid Heater is available in various specifications as per the requirements of clients at marginal prices.

Features:

Corrosion resistance
Sturdy structure
Precisely engineered
Easy operation
"THERMOTECH" presents a novel vertical four passes THERMIC FLUID HEATER is suitable for Indian industries in fast changing and unreliable energy circumstances. The vertical design joined with integral furnace offers you an oath of a valued production on any solid fuel like wood, husk, coal, bagasse, etc. Our generous design assistances in exchange from one fuel to another deprived of negotiating on performance. Its quality promise product comes from THERMOTECH, the corporation recognized for its know-how of heaters and boilers all over India. Nowadays there are more than 1000 THERMOTECH fittings in the country almost in all kinds of industry dipping time and cost.
EFFICIENCY AT ITS PEAK
Reduced Excess Air

Radiant heat exchanger overhead furnace, cools henceforth, less extra air is required. This gives growth to efficiency.

Air Preheating

Combustion air from FD fan permits using air preheater to engage the left-over heat from the fuel gases. This outcomes in additional increase in efficacy.

Balanced Draught System

This system safeguards least infiltration of undesirable air via fire doors. Henceforth, all the combustion air permits via the APH. Therefore, the supreme heat retrieval from APH takes place, that safeguards rated efficiency.

Rated Output

Thermotech's vertical heater model provides you valued efficiency and its considered output.

Multifuel Option

The system is appropriate for wood, coal, bagasse etc. for complete production with minor alterations in combustion chamber.
Fuel Consumption control founded on gross calorific value :
Lignite Coal: 3500 kcal / kg.
Steam Coal: 4500 kcal / kg.
Agro - Waste: 3300 kcal / kg.
Trade Information
All India, South India, Central India, North India, East India, West India, Andaman and Nicobar Islands, Andhra Pradesh, Assam, Arunachal Pradesh, Bihar, Chhattisgarh, Chandigarh, Delhi, Dadra and Nagar Haveli, Daman and Diu, Gujarat, Goa, Haryana, Himachal Pradesh, Jammu and Kashmir, Jharkhand, Karnataka, Kerala, Lakshadweep, Madhya Pradesh, Maharashtra, Mizoram, Meghalaya, Manipur, Nagaland, Odisha, Punjab, Pondicherry, Rajasthan, Sikkim, Tamil Nadu, Telangana, Tripura, Uttar Pradesh, Uttarakhand, West Bengal

ISO 9001:2008